November 28, 2023 | 12:00 AM - 11:59 PM
Event Planned By HONOLULU Magazine
On Tuesday, November 28, 2023, the Japanese Cultural Center of Hawaiʻi (JCCH) will participate in Give Big Hawaiʻi, a local 24-hour online giving campaign hosted by HONOLULU Magazine and sponsored by Aloha United Way and Southwest Airlines®.
Please support our nonprofit organization on this exciting day held annually on GivingTuesday, a worldwide day of generosity!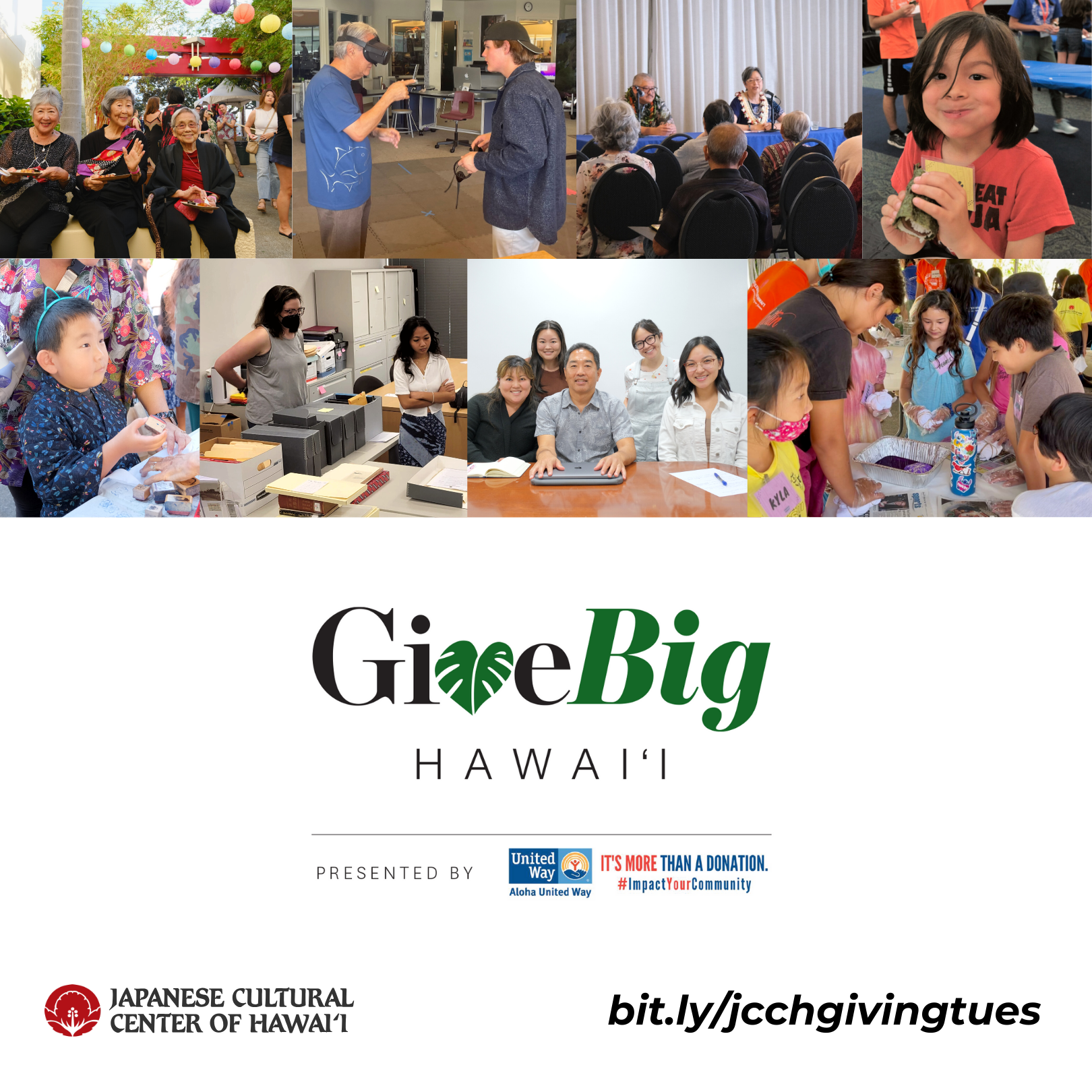 ---
JCCH Board of Directors Matching Gift: The JCCH Board of Directors has generously pledged to match donations up to $5,000 to help us reach our goal. The board and JCCH staff members are competing in teams to raise the most money for the JCCH during Give Big Hawaiʻi:
Team Ganbare • Team Meiyo • Team Shikata Ga Nai • Team JCCH Staff
FUNDRAISING TEAMS: Donate to the JCCH in support of your favorite competing team listed on the JCCH's Give Big Hawaiʻi page!
---
SOUTHWEST AIRLINES® BONUS POINTS: Southwest Airlines® is rewarding its Rapid Rewards® Members with 25 points for every dollar donated to Give Big Hawai'i nonprofits ($25 minimum, maximum 10,000 bonus points earned by one (1) Customer). Rapid Rewards® is FREE to join at https://www.southwest.com/.
---
Donations through the Give Big Hawaiʻi online portal to our nonprofit organization are tax-deductible and cannot be refunded. Contributions may be made via credit and debit card only. Early donations will be accepted starting on Monday, November 20, 2023. In order for your donation to be counted towards prize incentives awarded on Give Big Hawaiʻi, it must be made between midnight at 11:59 PM on Tuesday, November 28, 2023. Donations made after Tuesday, November 28, 2023 will be accepted until Sunday, December 31, 2023 at 11:59 PM HST.