October 7, 2023 | 10:00 AM - 11:00 AM
Generations Ballroom, 2454 South Beretania Street, Honolulu, HI 96826
Event Planned By Japanese Cultural Center of Hawaiʻi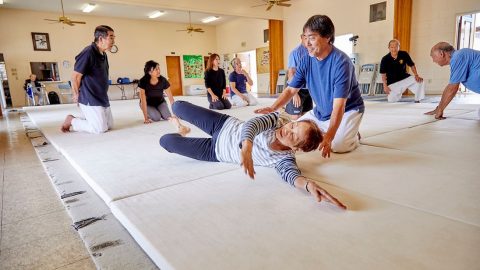 What is safe falling? It means falling in a way that protects your head from injury. Secondarily, it means falling in a way that minimizes broken bones in your hips, pelvis, arms, or shoulder.

The best way to achieve "safe falling" is NOT to fall at all. But as we all know, falls do happen in unexpected ways and times, especially as we age and lose muscular strength and balance.

The JCCH invites our members and friends to attend a presentation about Safe Falling led by Kupuna Aikido, a nonprofit organization. Instructors Norm Kumura and Bill Doi will explain and demonstrate techniques utilizing common-sense principles that you can use to minimize injury if you fall. The presentation will focus on what to do if you fall, as well as provide pointers on fall prevention.
Through this presentation, the JCCH hopes to gather enough interest to host weekly Safe Falling classes in the JCCH dōjō on weekdays. 
This presentation will be a talk and demonstration only, held in the Generations Ballroom on the 5th Floor. 
No prior experience in Aikido or martial arts training is necessary, and all ages are welcome. Please register by October 6, 2023 at 12:00 PM HST.